gaucho Tour
The Gaucho Tour is Nazca's latest design in the "two large wheels" touring segment. Our many years of experience in designing and building high quality recumbent bicycles has been incorporated into the Gaucho frame. We made the first version in 2009 and since then we have been constantly fine-tuning it with minor adjustments and additions. The Gaucho is an all-round recumbent that can be optimally adjusted to your wishes. In short... an excellent recumbent for commuting, challenging tours and distant holidays.
Big plus: depending on leg length and preference, you can choose between 24", 26" or 28" wheels.
The Gaucho Tour has been discontinued in 2020.

versatile recumbent bicycle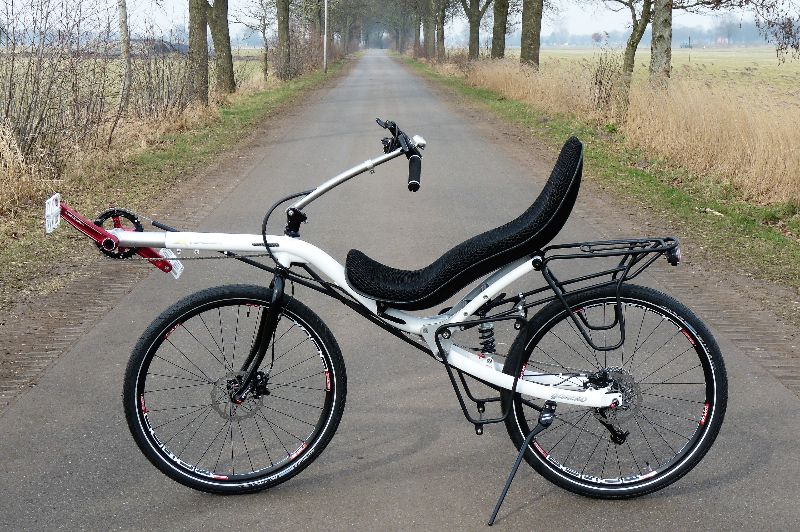 Do you want a tiller-steer, an under-steer or an aero-steer setup? At the Gaucho Tour you can choose. This versatile recumbent is suitable for almost everyone with a length from 1.60 to 2.00 m. As an indication: the 28" version is suitable from approx. 1.85 m, the 26" version from approx. 1.75 m and the 24" version from approx. 1.60 m.
touring with lots of  comfort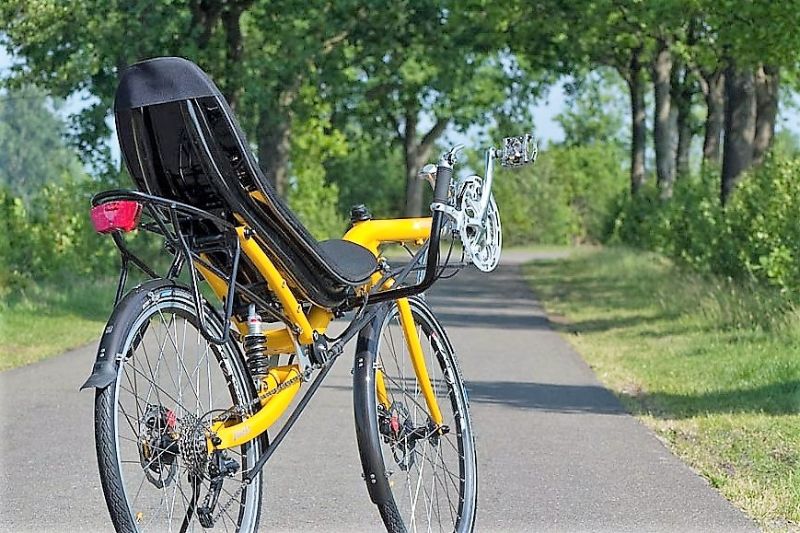 The material and construction of the frame determine the riding comfort. Small vibrations can only be absorbed by the frame, the seat and the tyres. That is why the main frame, the rear fork and the subframe are made of high-quality CrMo tubular steel with wall thicknesses from 0.9 to 1.2 mm. The steel frame is reliable through and through, the risk of material fatigue is virtually excluded.
optimally protected against corrosion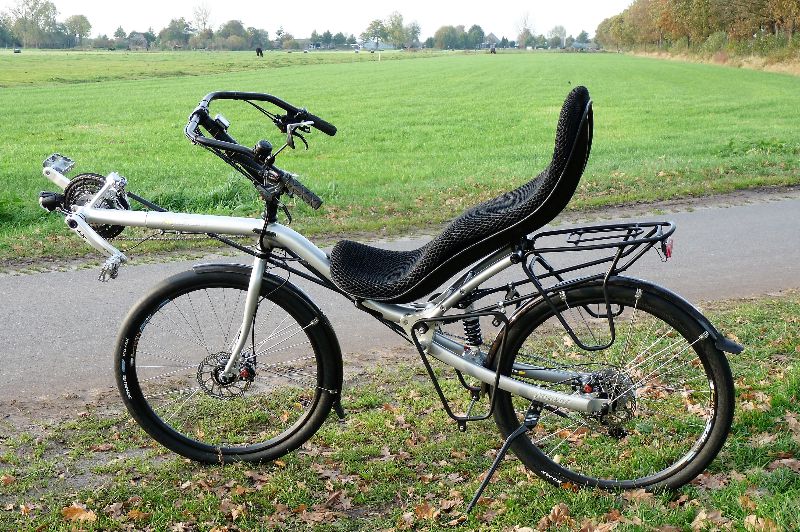 The construction of the frame is a unique Nazca concept: front frame, rear fork and subframe are connected by aluminium gusset plates. This composed construction is very strong, rigid, light, easy to dismantle and optimally protected against corrosion.
select your version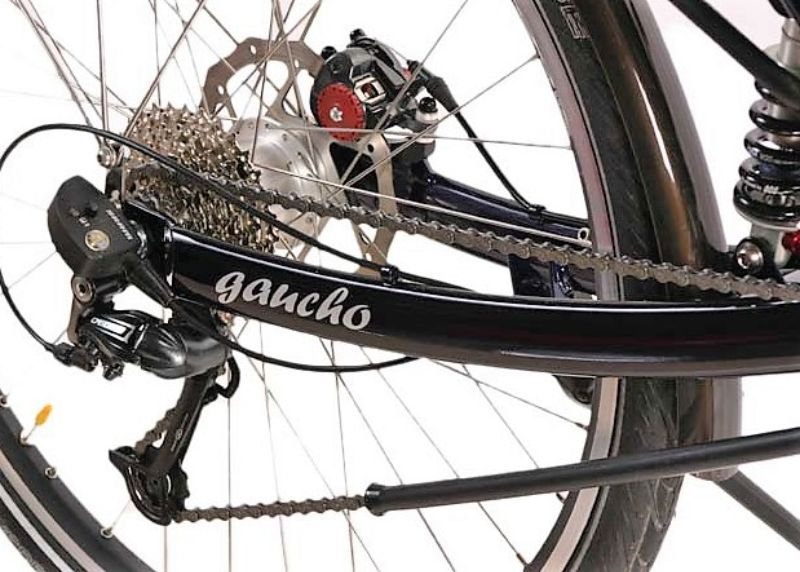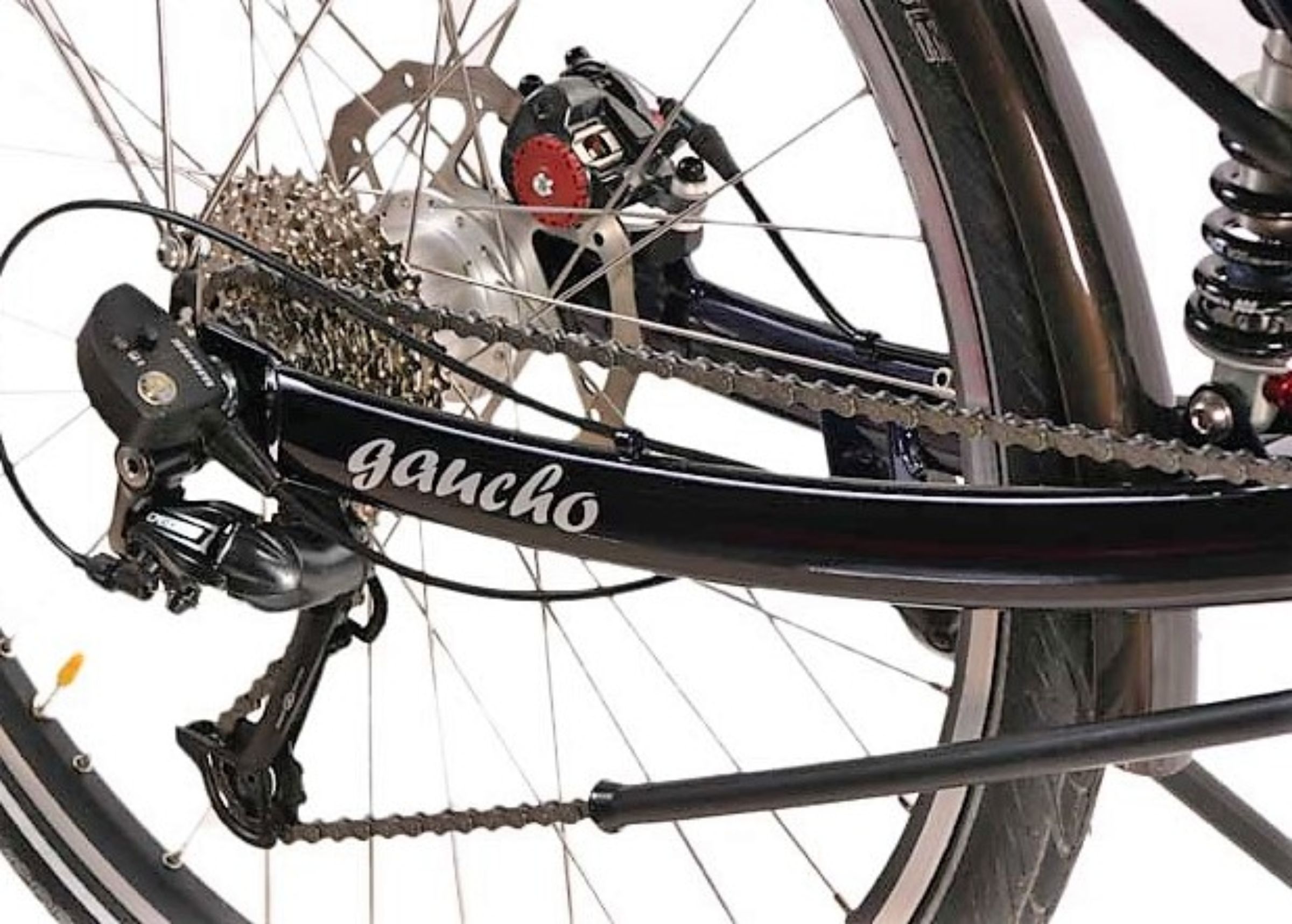 Do you want a cassette hub, a gear hub or a combination of both? Also in this respect the Gaucho Tour is versatile, all options are possible. Above you will see a Dual Drive hub. The Gaucho Tour comes standard with 160 mm disc brakes at the front and rear.
easy to adjust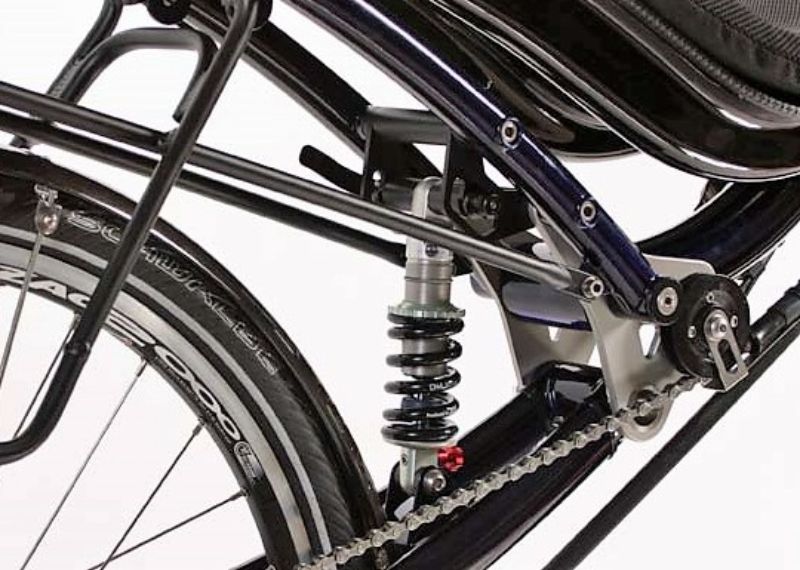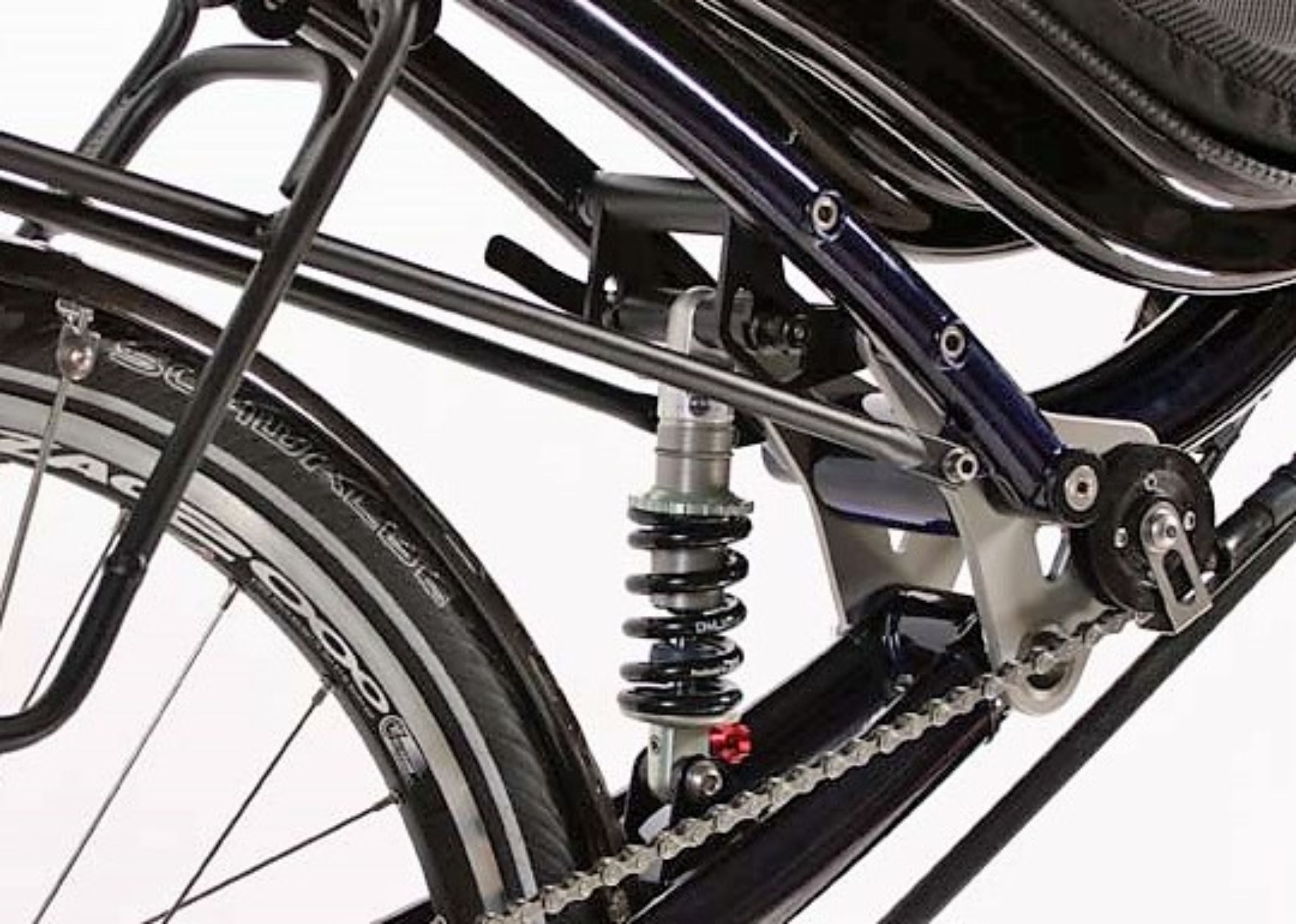 This picture shows a detail of the rear suspension with adjustment for the shock absorber. The bearing arrangement of the rear fork is virtually maintenance-free and easy to adjust. Advantage of the subframe construction: luggage is rigidly attached to the frame, even full panniers will therefore have little effect on driving behaviour.
shock absorber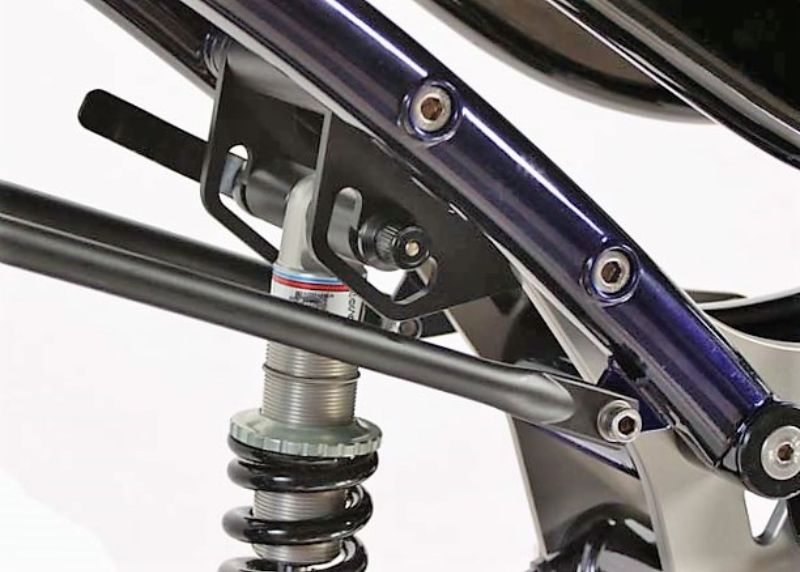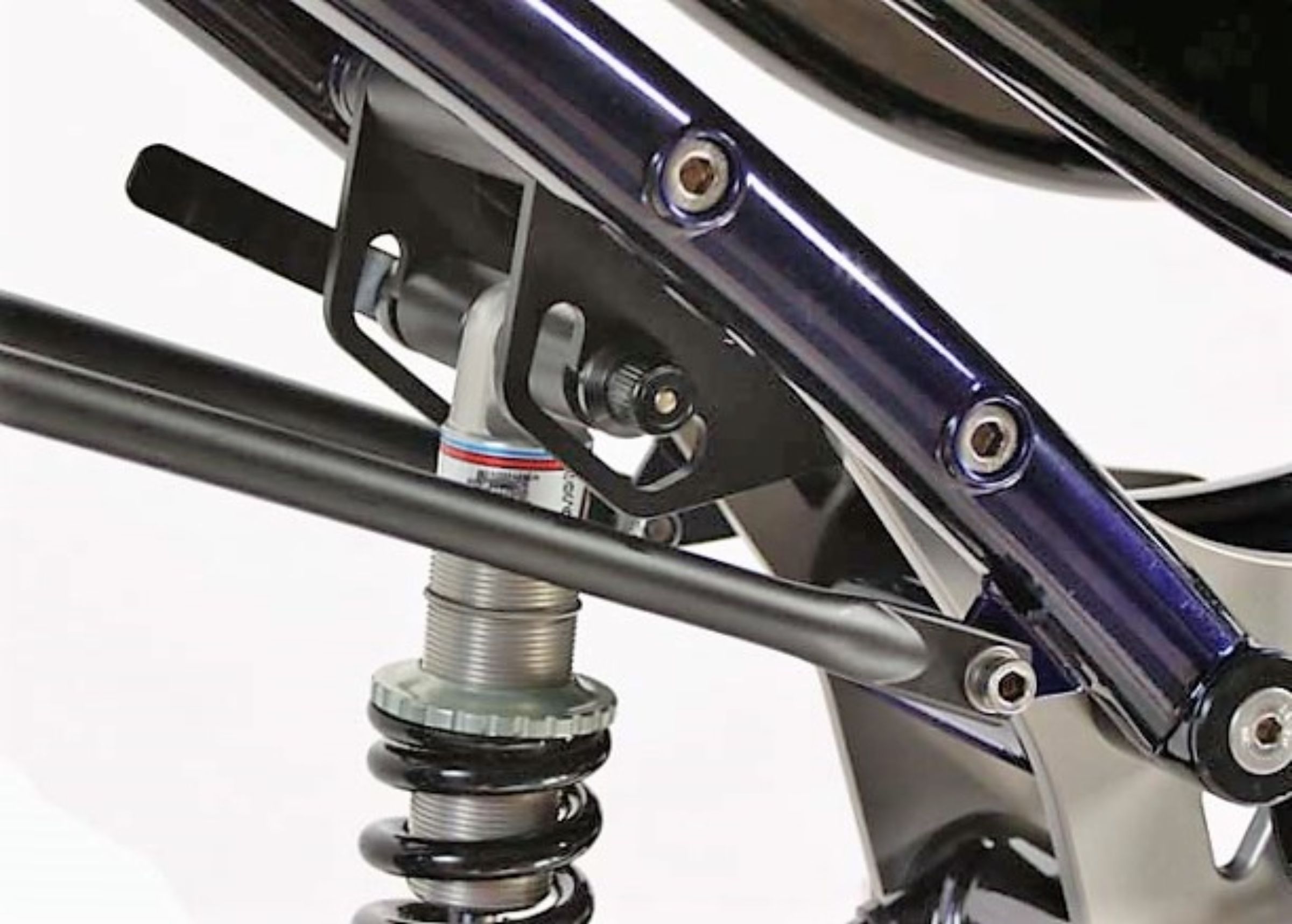 With the shock absorber adjustment, the geometry of the bike can be adapted to the circumstances. In this way you have more or less three different bikes, each with its own riding behaviour. This adjustment also changes the seat-angle. Extra luggage during a holiday? Simply move the shock absorber to a higher position.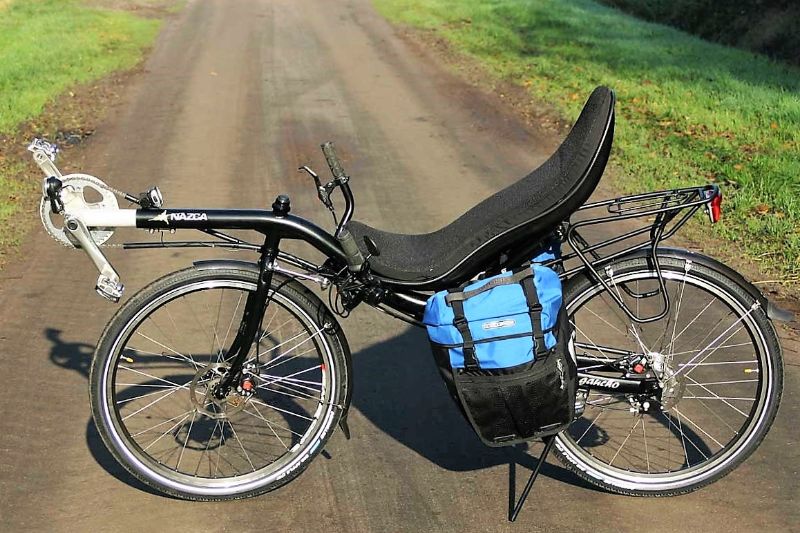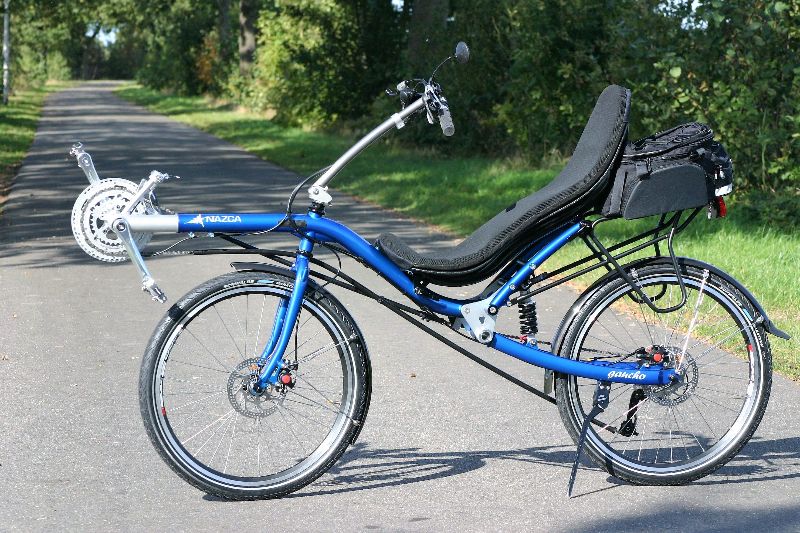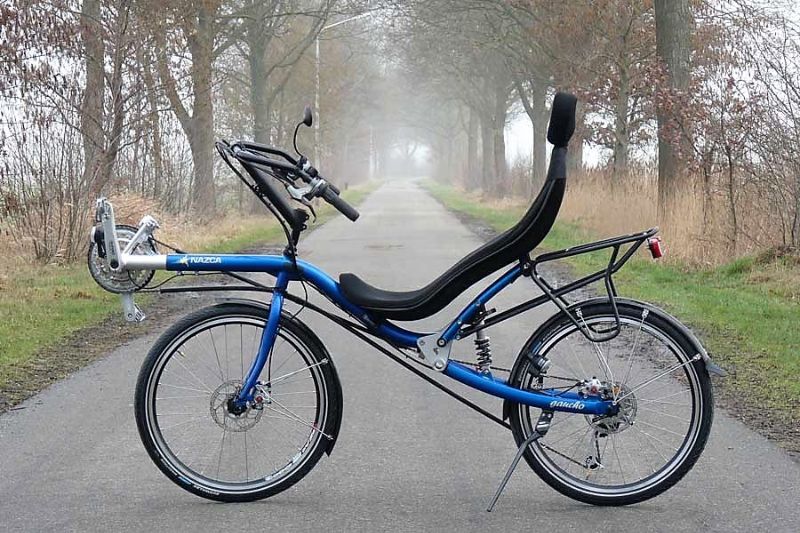 SPECIFICATIonS
| | |
| --- | --- |
| seat height (28 / 26 / 24") | approx. 64 / 62 / 56 cm, middle position, loaded |
| bracket height (28 / 26 / 24") | approx. 80 / 78 / 72 cm, middle position, loaded |
| wheelbase ( 28 / 26 / 24") | |
| | 28 inch (ETRTO 622 mm) / 26 inch (ETRTO 559 mm) / 24 inch (ETRTO 507 mm) |
| | 26-34 degr., adjustable with quick releases |
| | approx. 18 kg, depending on version |
| | |
| | frame/front/rear fork steel 25CrMo4, front tube/connecting plates aluminum |
| | DNM-MM22AR, adjustable damping and pre-load, length 165 mm |
| | aluminium, max. load 30 kg |
| | glass fiber/polyester seat size M,L,XL. seat pad Nazca or Novosport |
| | iron-phosphating + 2-layer powder coating |
| | fire-red, applegreen, nightblue, black-satin, melon-yellow, white |
| | allround 3x10 Deore, Top-Touring 3x10 Deore XT, Alfine 11 speed, Rohloff 14 speed |
| | stainless steel tillersteer, understeer, aerosteer |
options    (scroll l/r)
lighting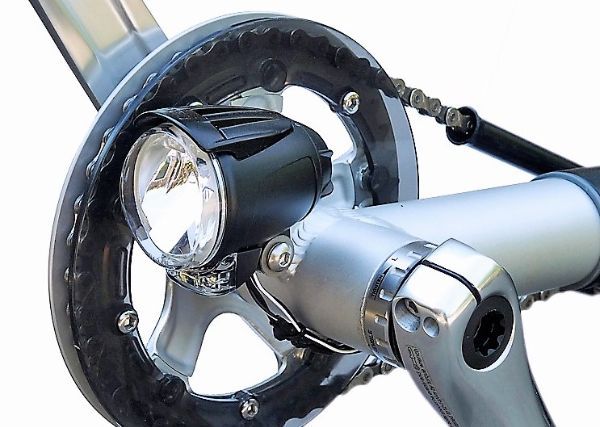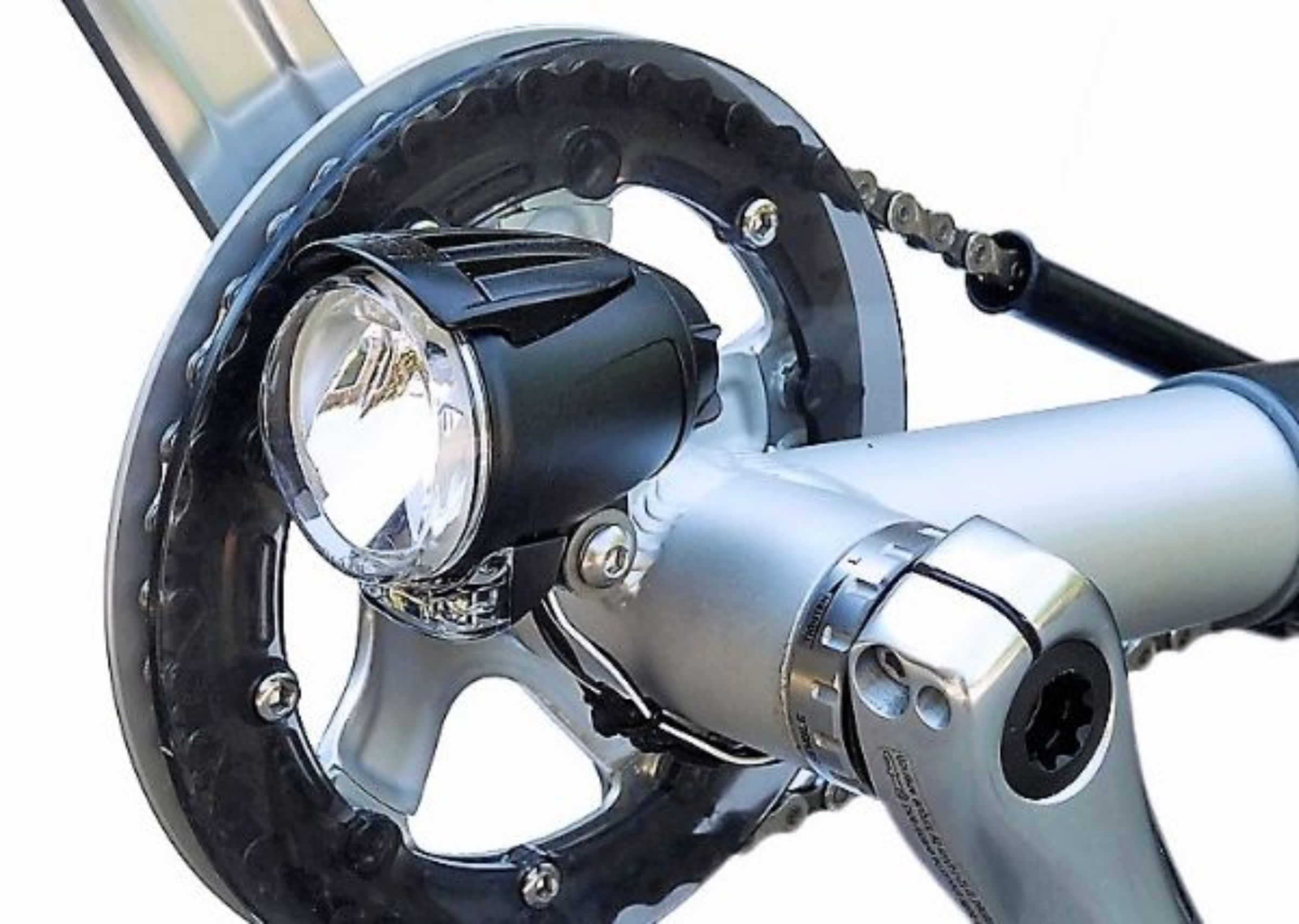 The headlight is a very powerful Busch und Müller LED lamp, type Cyo Premium T senso plus 3W/6V. A top-quality German brand with a luminous intensity of up to 80 lux. The lamp is equipped with sensor technology so that day and night lighting and standby lighting (3 minutes) can be switched on automatically.
hub-dynamo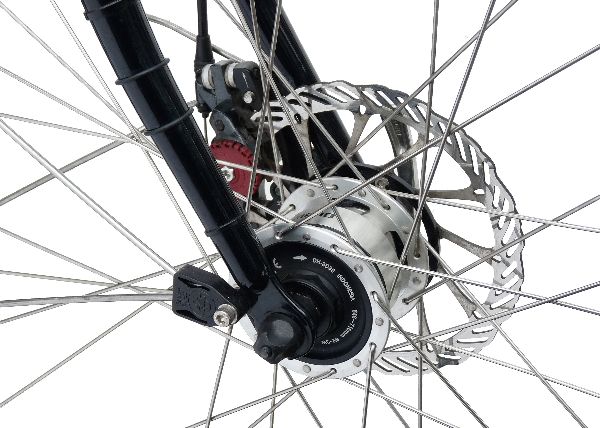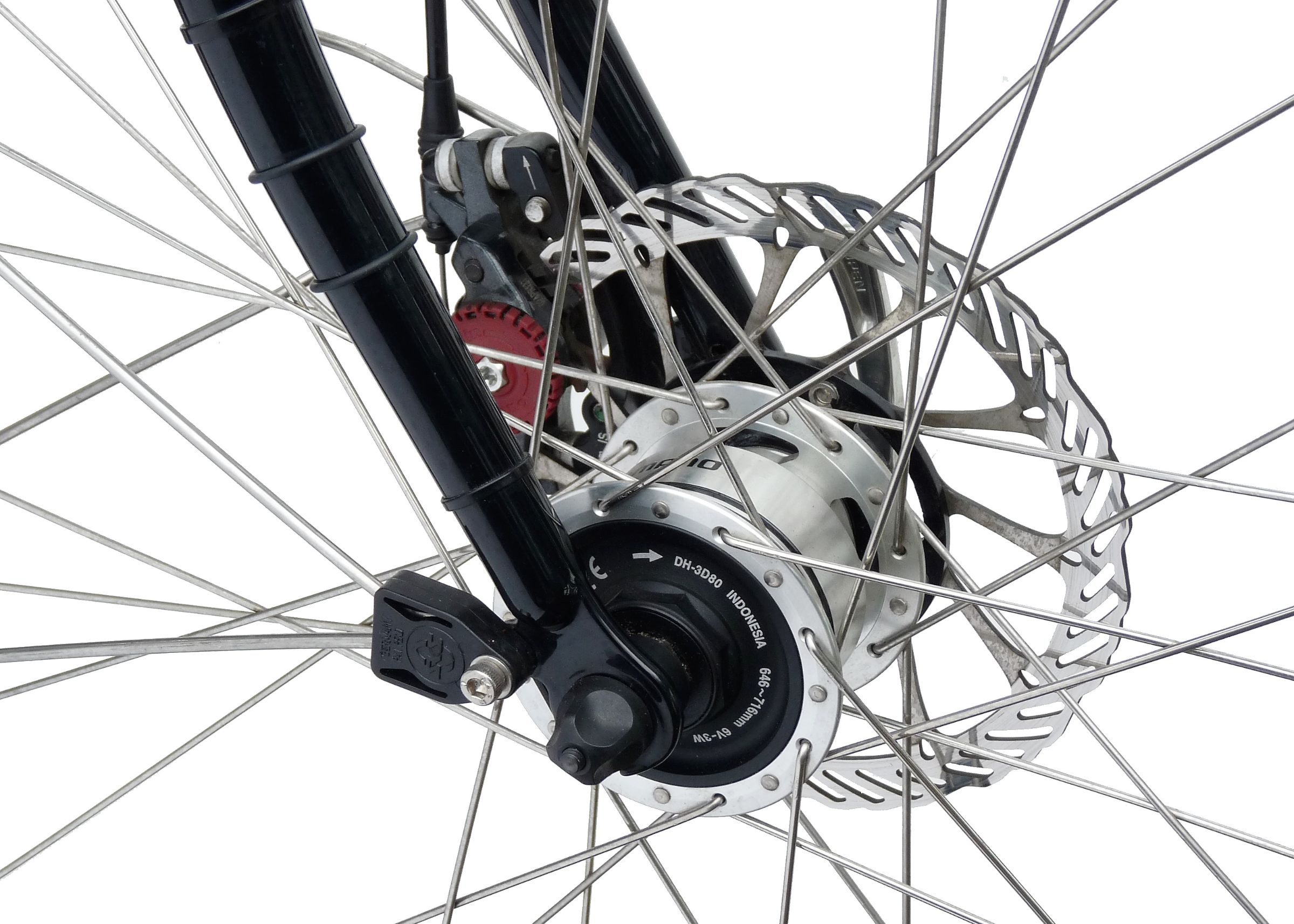 A hub dynamo is a very reliable and efficient way to generate power for your lighting or GPS. Maintenance-free and completely silent: you won't notice anything at all while riding. The alternator power is 3W/6V.
lowrider brackets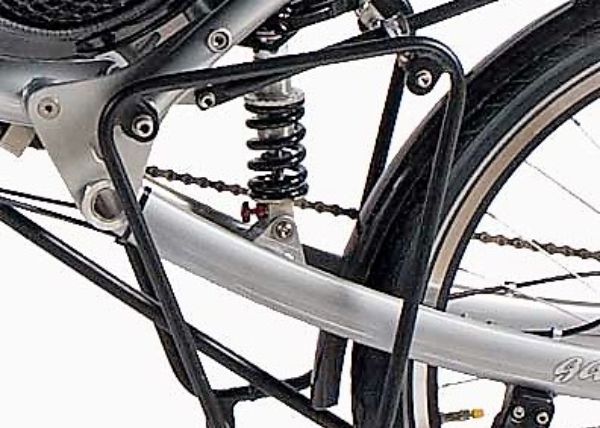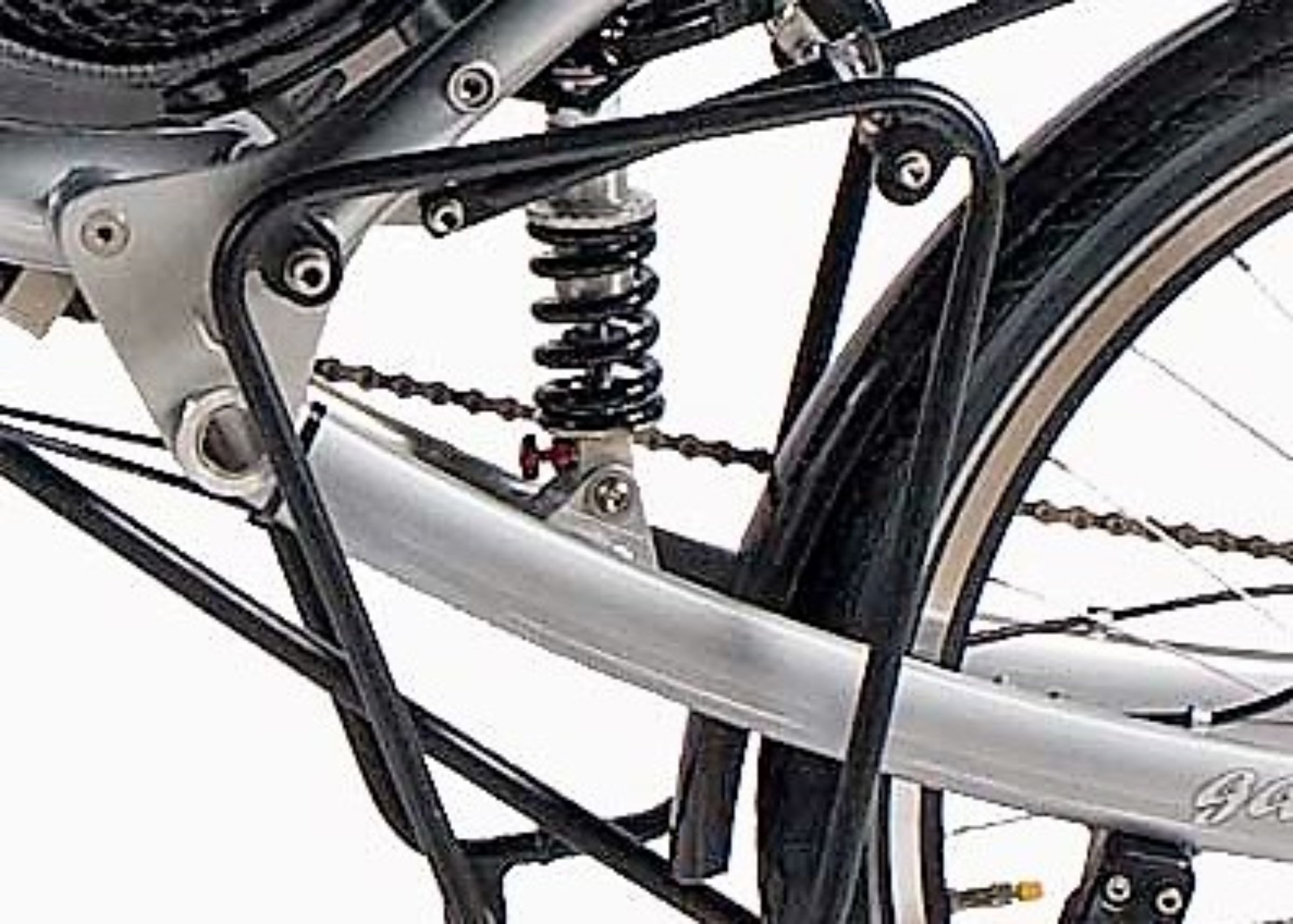 With the lowrider brackets you can take 2 extra bags with you without any problem, because the extra weight is optimally placed between the wheels. These brackets consist of aluminium tube with a diameter of 12 mm and have a maximum load of 2 x 15 kg. The brackets are suitable for small and large bags, such as Ortlieb's.
hydraulic disc brakes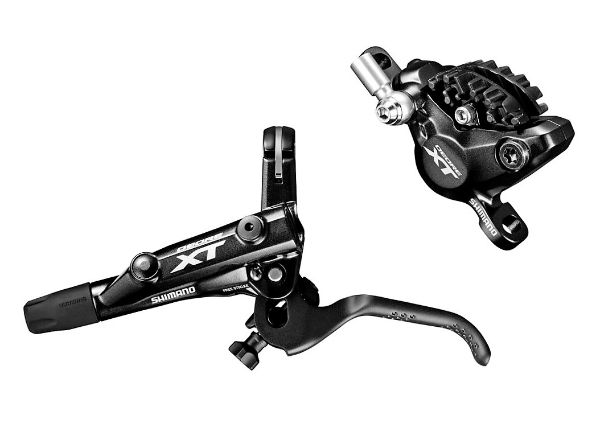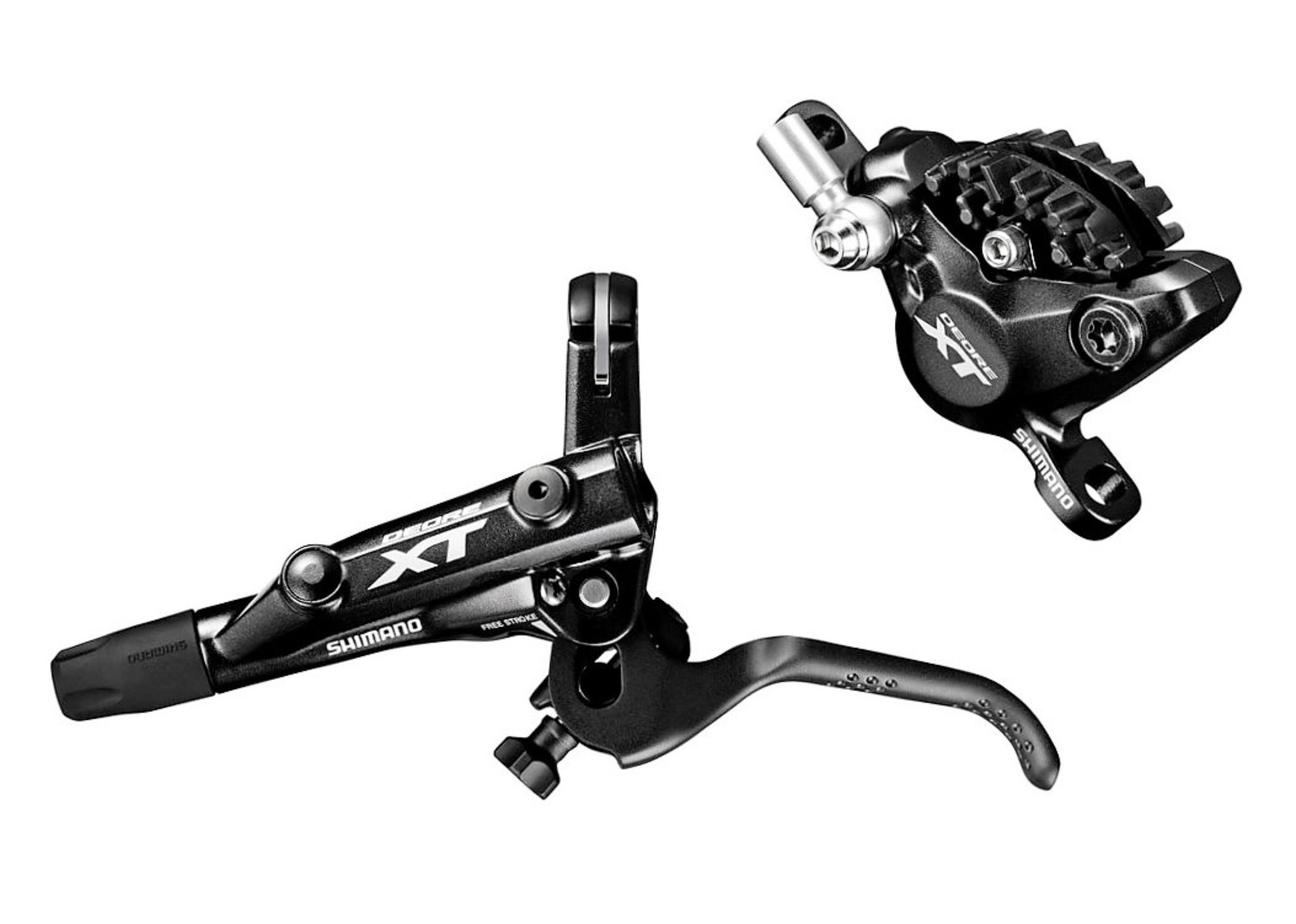 Hydraulic disc brakes offer a great deal of braking power, can be operated with little manual force and are excellent for dosing. Once properly installed, they are virtually maintenance-free and all you have to do is replace the brake pads from time to time. The maximum disc diameter is 160 mm.
suspension fork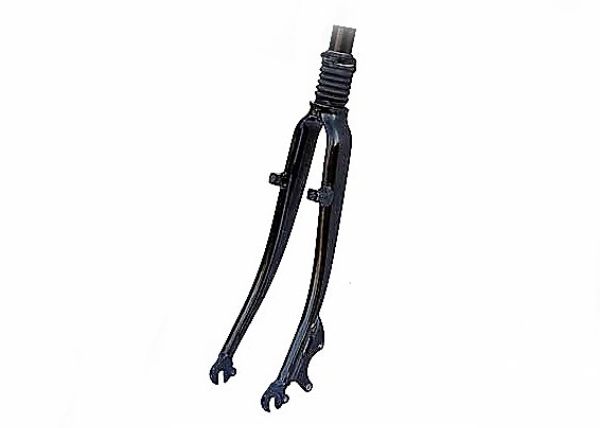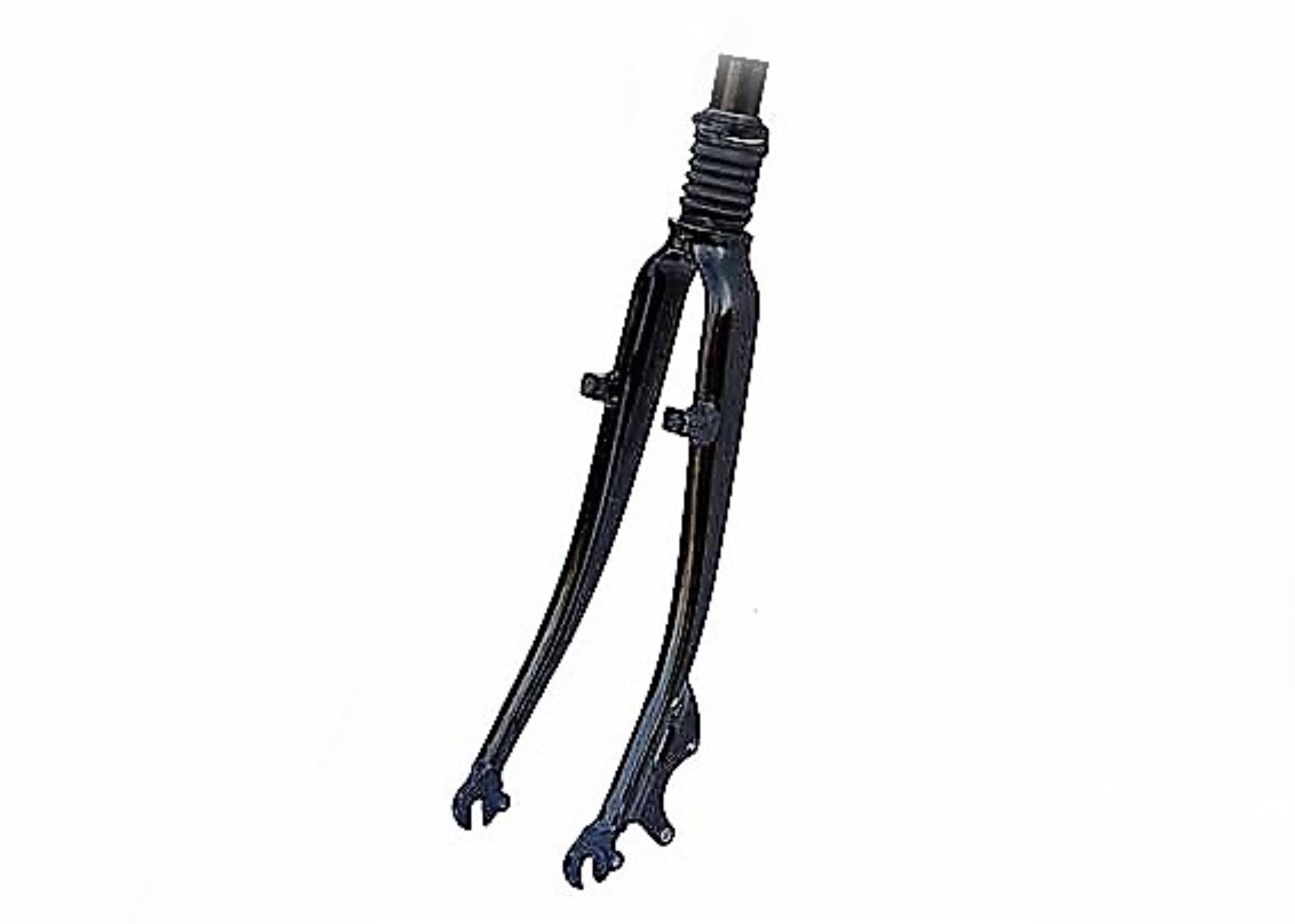 For the Gaucho 26" with tiller-steer or aero-steer, a suspension fork with a 25 mm travel is available. The maximum tyre width is 40 mm, incl. mudguard. The suspension fork increases comfort, especially pleasant on a cobblestone road or bad asphalt.
Maximum load: 100 kg (rider + luggage).
shorter cranks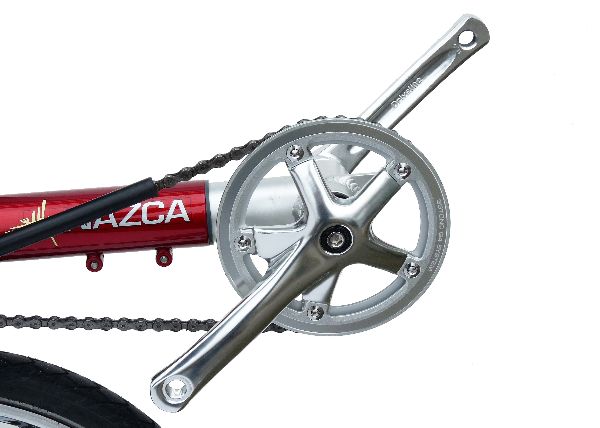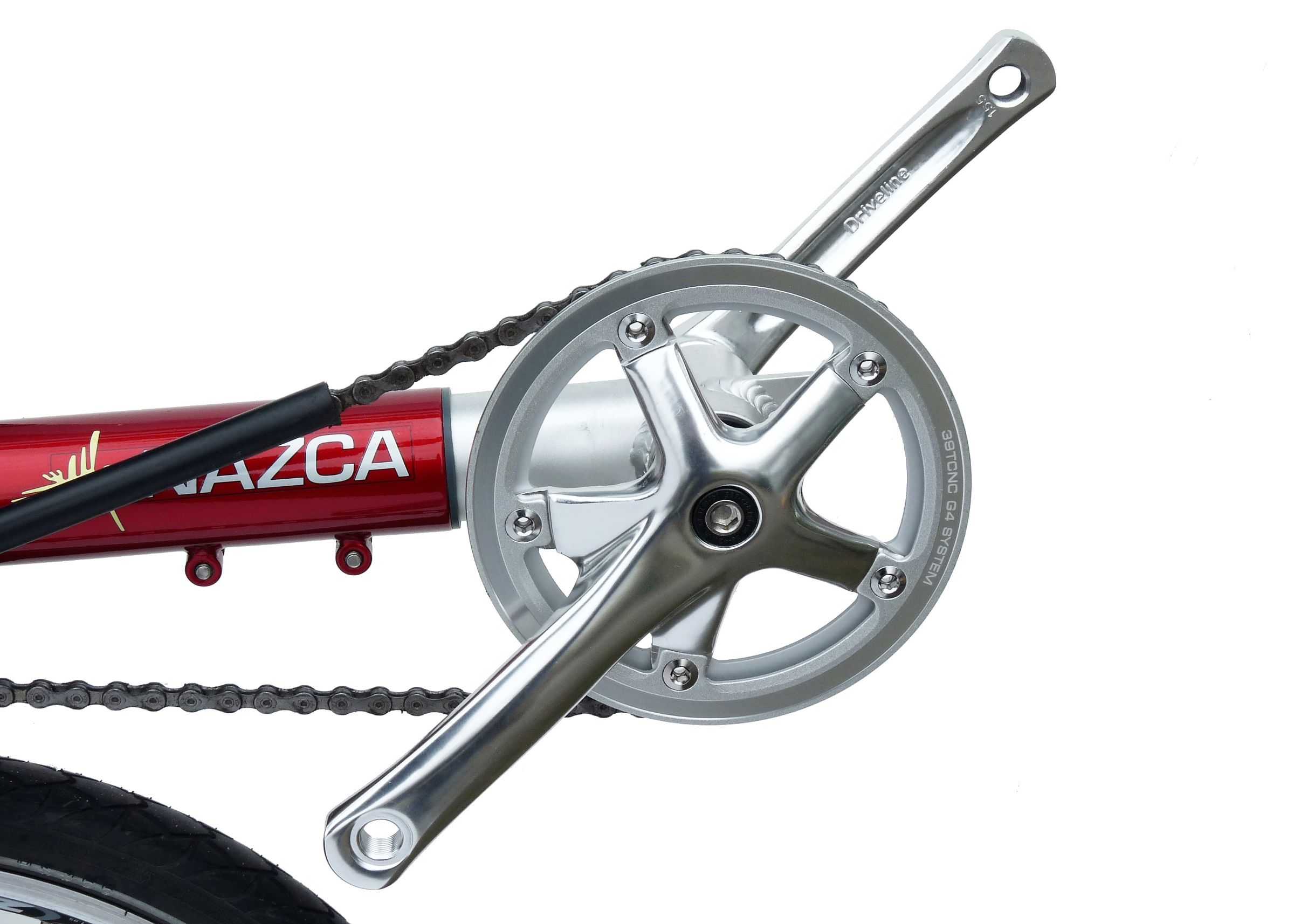 For people with a smaller stature, a crankset with shorter cranks can be mounted, 155 mm instead of 170 mm. In general, this gives more play compared to the front wheel, a higher pedal cadance and less flexion and stress on the knees.
carbon  seat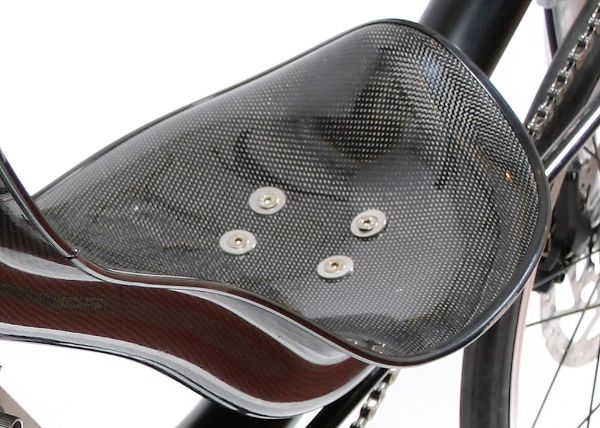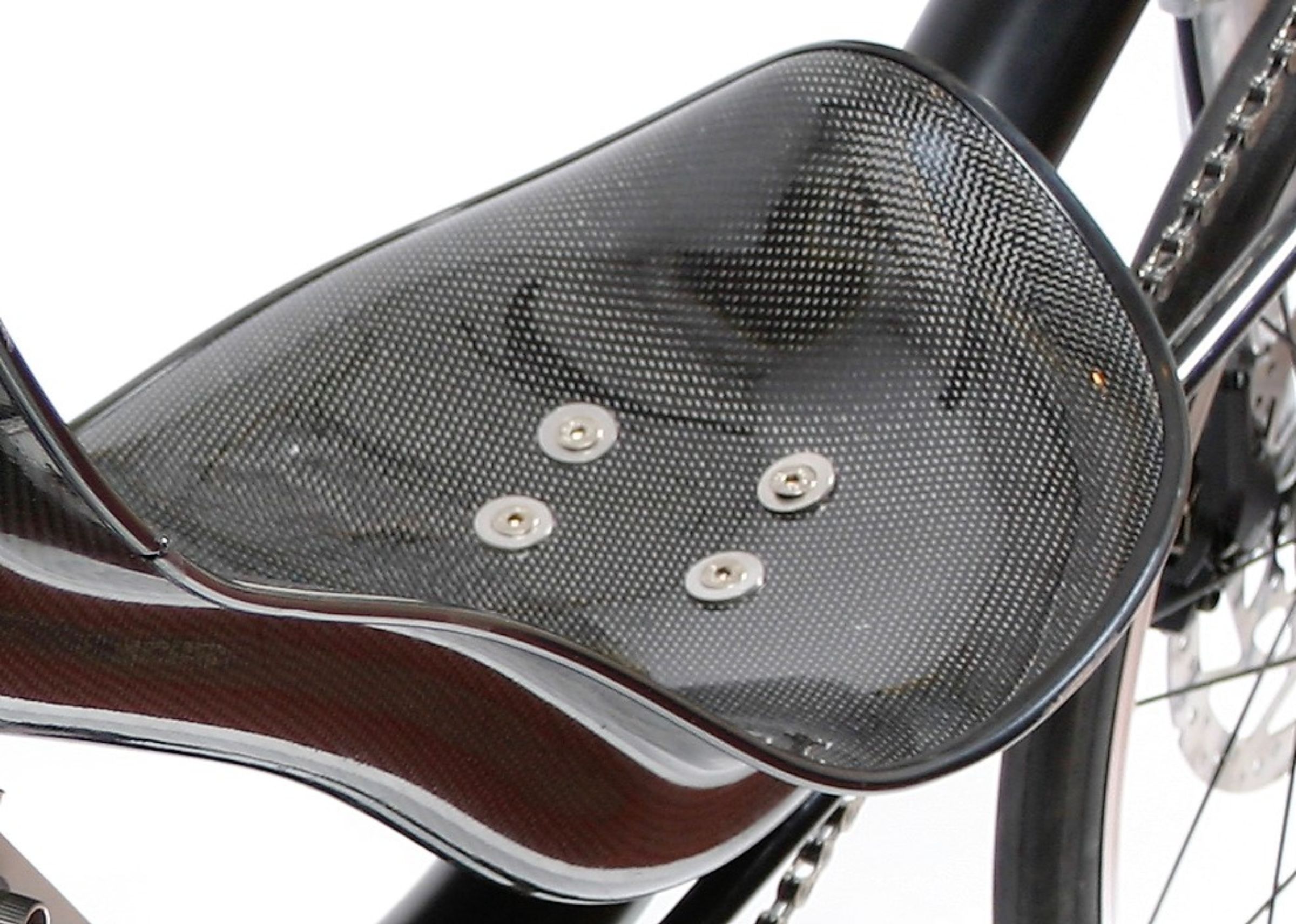 The carbon seat is 500 - 700 grams lighter than a glass fiber seat in the same size, but is just as strong. Due to the visible carbon fibers and the craftsmanship of the maker, the carbon seat is a feast for the eye.
headrest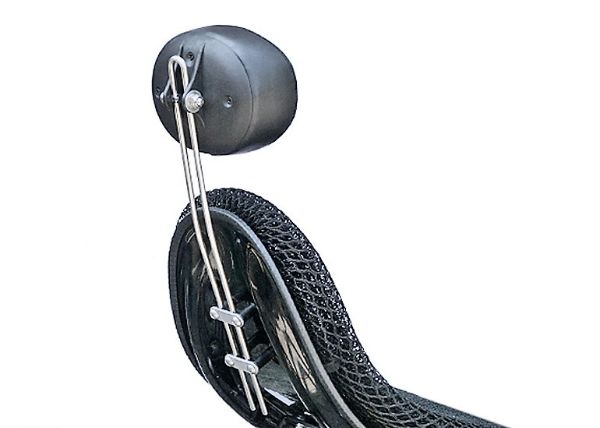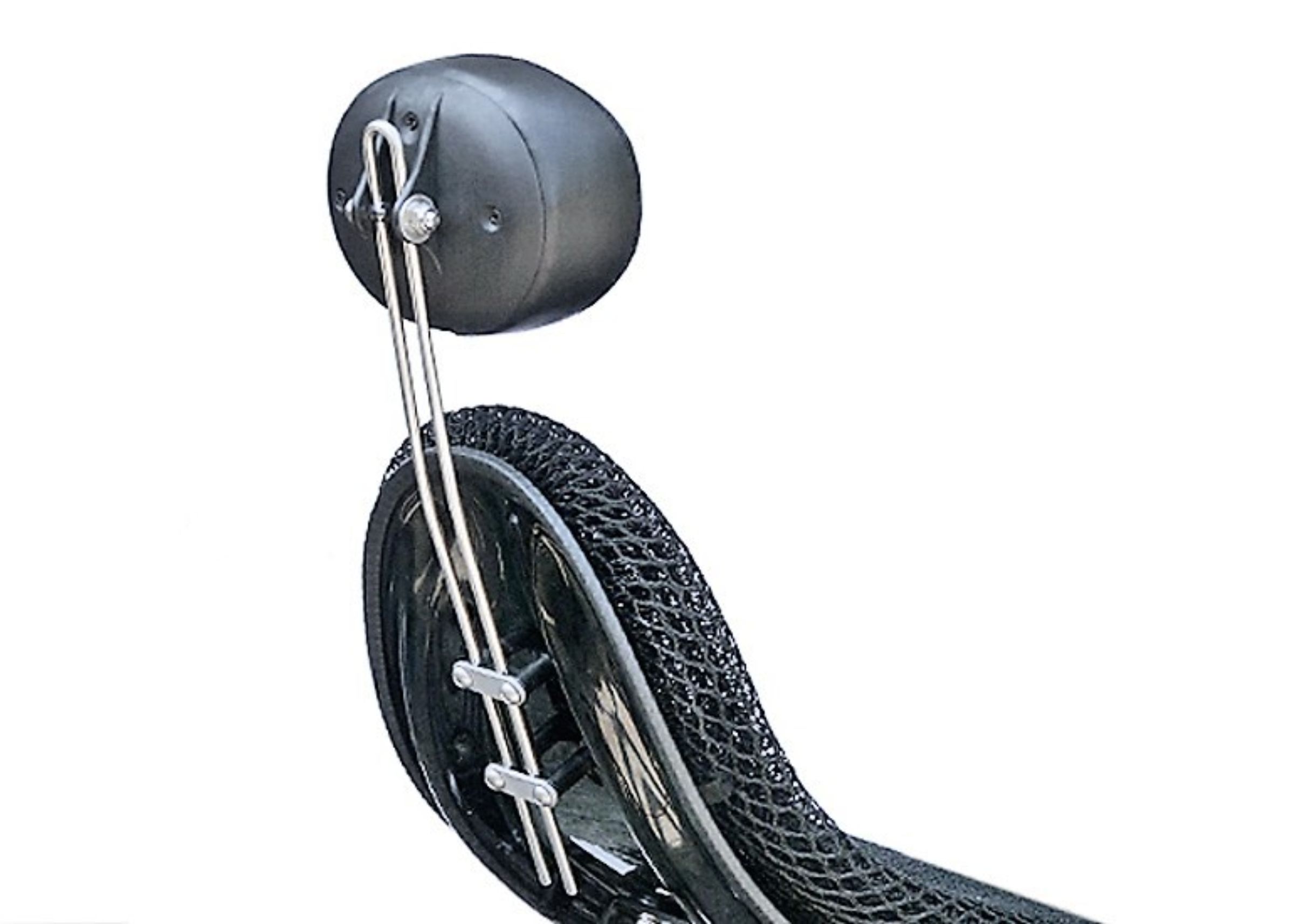 Many recumbent cyclists like a headrest. The support is fully adjustable and therefore always fits. The stainless steel bars can be bent slightly for the correct position of the support.
kickstand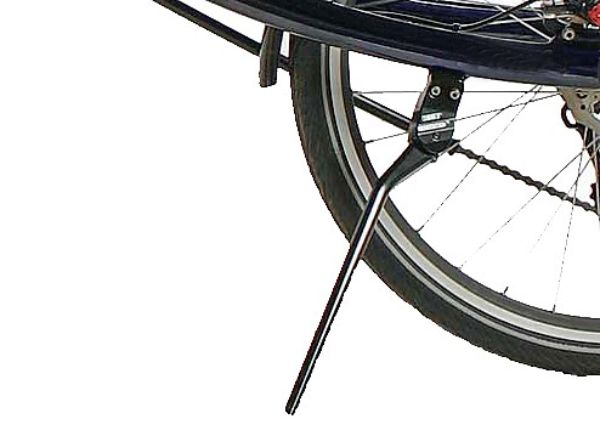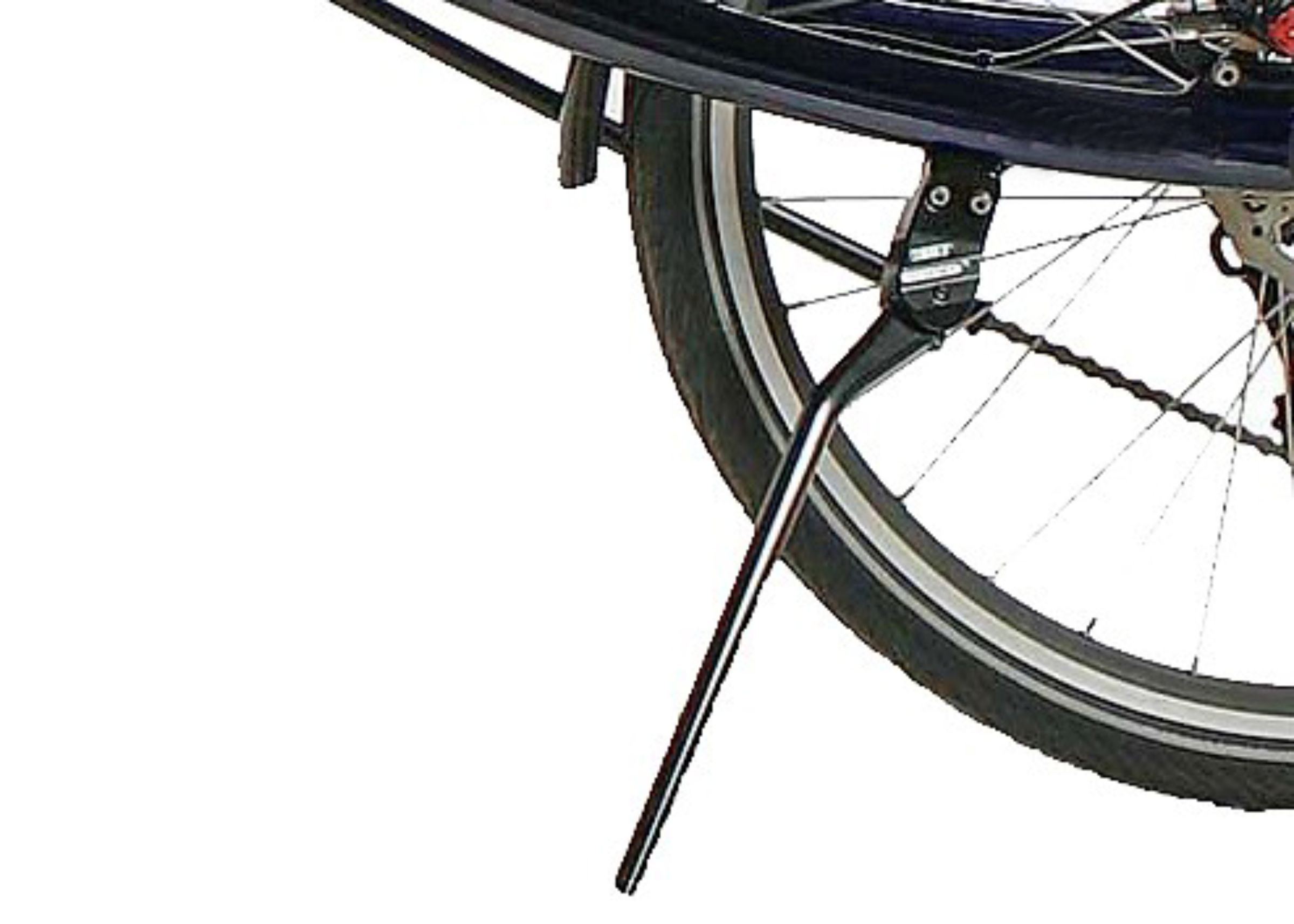 The Pletscher stand is solidly attached to the rear forks. A kickstand is an indispensable part of your recumbent in daily use.
ventisit cushion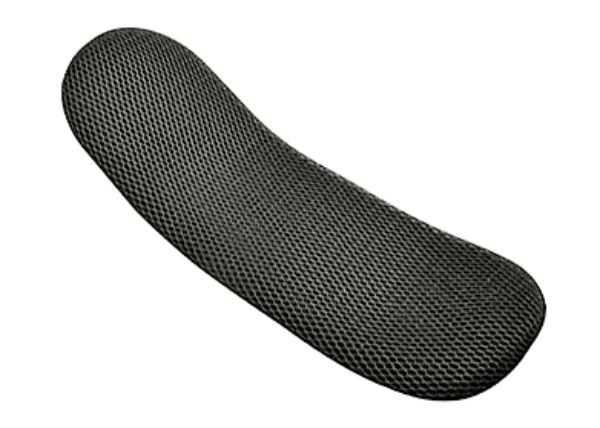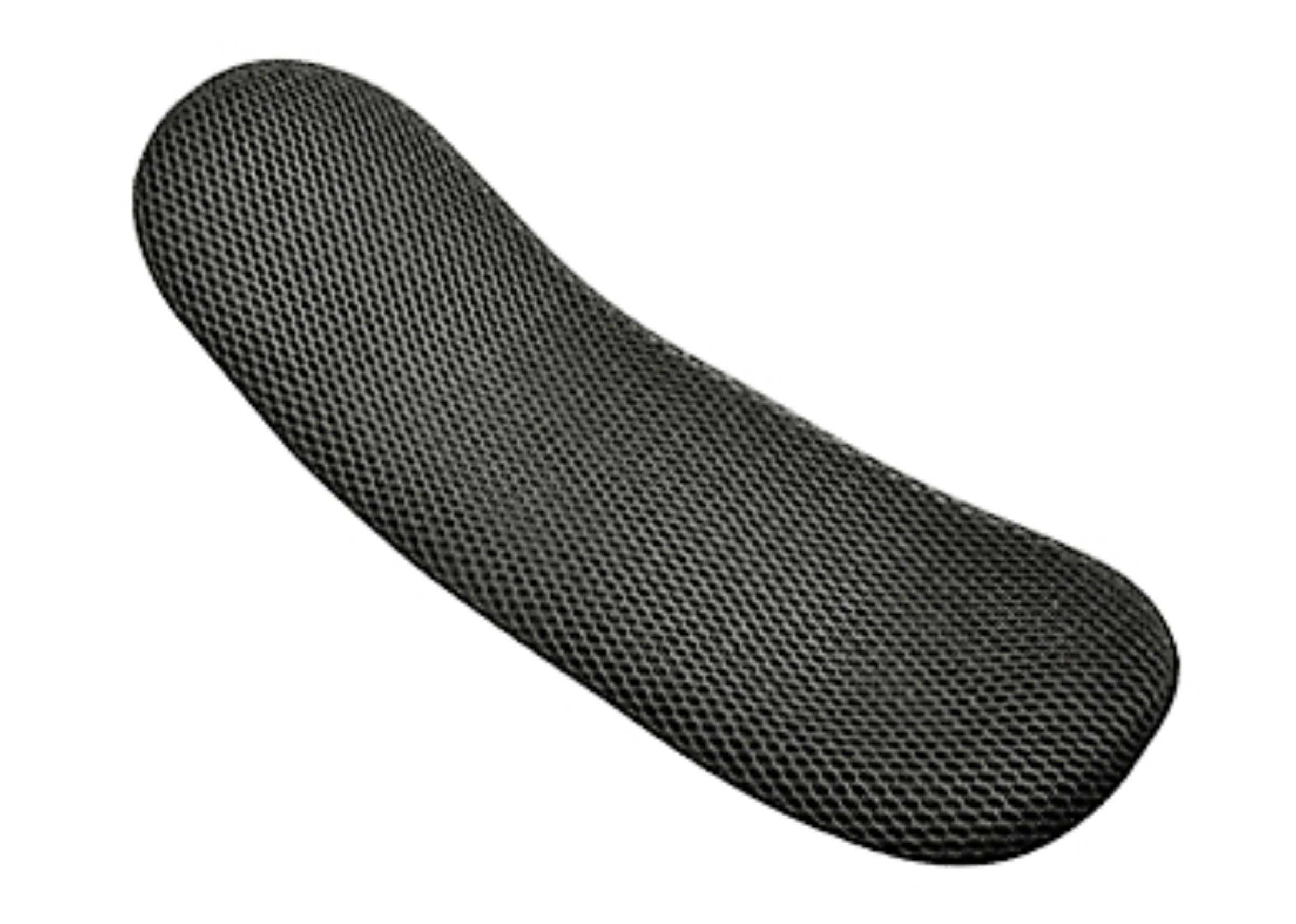 Ventisit has been a popular brand for recumbent cushions for many years. The material has a very good ventilation effect, offers a lot of comfort, does not absorb any water and has a long life span. The cushion is attached with velcro and can therefore be removed quickly.
frame kit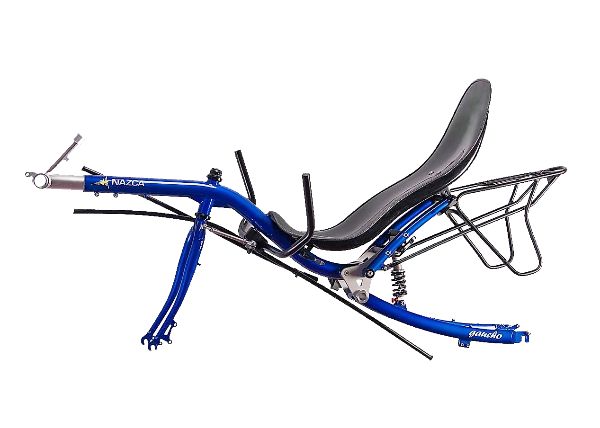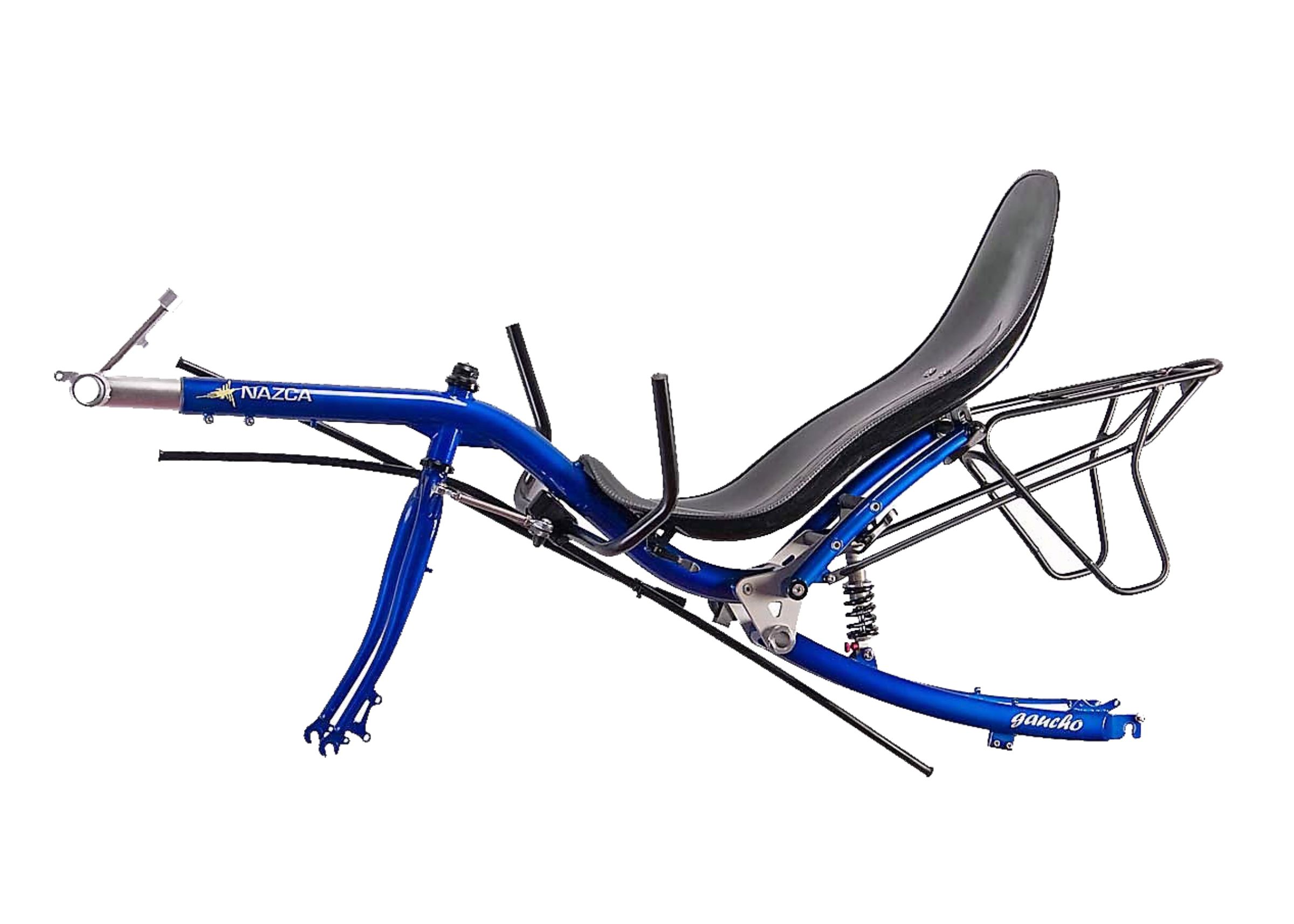 The frame kit of the Gaucho consists of all frame parts and special parts that you can see in the picture. You choose the extra parts yourself and build your own racing bike, just as you want it to be. A bit of experience is of course useful in this respect.
colour choice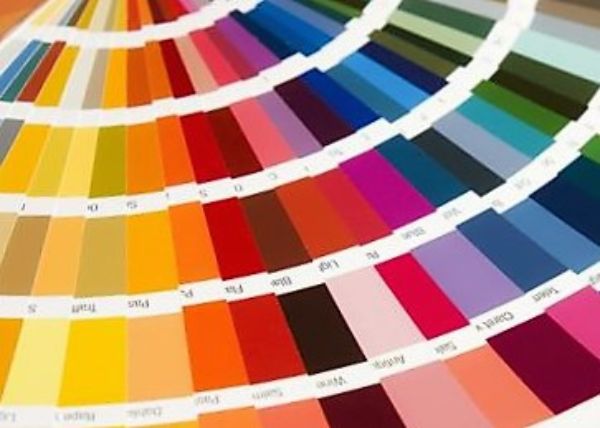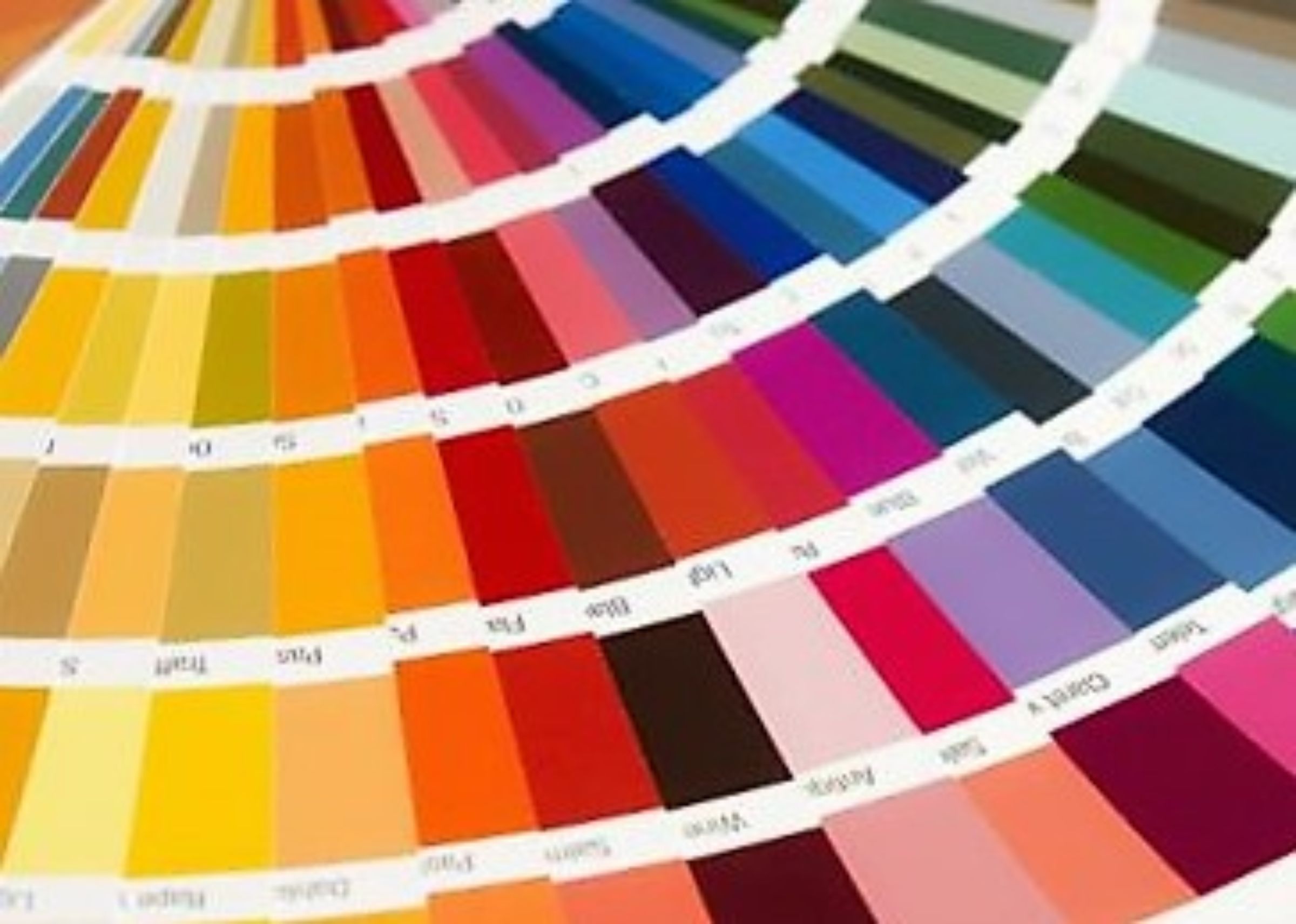 Colour is important. Do you have special requirements? We can supply a large number of non-standard colours as an extra option. Please let us know which RAL number you want. Then we will check if we have the colour available.
ON THE ROAD